Category:
Mutual Aid in Rojava
Mutual Aid is a volunteer-led initiative / project where groups of people in a particular area, or from a particular community join together to support one another, meeting vital community needs without the help of state institutions or NGOs. It is, by definition, a horizontal mode of organising, in which all individuals are equally powerful. Mutual Aid, in simpler words, is co-operation for the common good.
Mutual Aid – in all of its forms and varieties – is a universal practice, rather than a catch-all term, or definition. It is an evolutionary factor as old as life on Earth.
The articles below are about Mutual Aid practices in North and East Syria (Rojava / West Kurdistan).
———————————————————
Read more about the history and current practices of Mutual Aid around the world today at our sister project: www.mutualaid.coop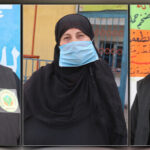 Metbexa El-Firdews (El-Firdews's Kitchen), a charity organization, has provided free meals to orphans and poor families since its foundation. The organization distributes free meals to anyone in need during Ramadan.