Category:
Mutual Aid
Mutual Aid is a volunteer-led initiative / project where groups of people in a particular area, or from a particular community join together to support one another, meeting vital community needs without the help of state institutions or NGOs. It is, by definition, a horizontal mode of organising, in which all individuals are equally powerful. Mutual Aid, in simpler words, is co-operation for the common good.
Mutual Aid – in all of its forms and varieties – is a universal practice, rather than a catch-all term, or definition. It is an evolutionary factor as old as life on Earth.
Read more about the history and current practices of Mutual Aid around the world today at our sister project: www.mutualaid.coop
The articles below are about Mutual Aid practices in both North and East Syria (Rojava / West Kurdistan) and southeastern Turkey / North Kurdistan (Bakur). You can also search for article on Mutual Aid according to region.
———————————————————
Click here to read about Mutual Aid in Rojava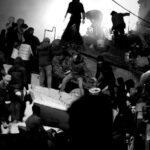 The HDP's strength lies in its ability to mobilise and organise its large network of supporters and sympathisers and like-minded community organisations. As soon as they heard about the earthquake, the party dropped all other plans, set up a central coordination centre, and dispatched leading members to the affected area. Local election centres were transformed into coordination centres, while the youth organisation concentrated on rescue work. They put out calls for solidarity and for people with shelter and food to share with those without, and they helped create a framework to allow people's natural solidarity to find direction.