Category:
Ecology
Ecology is one of the three main pillars of the Rojava Revolution and the stateless self-governance model of the Autonomous Administrations of North and East Syria (AANES), as well as the Kurdish freedom movement more broadly, which initiated the revolution.
Although ecology is one of the main pillars of the revolution in North and East Syria, it is also sadly one of the least developed. This is due to the challenges of being at the epicentre of a global conflict and under heavy economic embargo in a desertifying region suffering immense water scarcity that has been forced into a pesticide and chemical fertiliser heavy form of monocrop agriculture for forty years. To add to these troubles, the rivers which flow through the region are controlled by hostile state of Turkey, which frequently detains water flow.
In Bakur (north Kurdistan / southeastern Turkey), ecological destruction is also used as a weapon of war. Hydroelectric megaprojects have been used to control village populations, displacing hundreds of thousands of people and literally submerging entire towns.
Below you can find articles with more information about attempts to create ecological projects in both regions, the ecological pillar of the Rojava Revolution, and the struggle against ecocide in southeastern Turkey.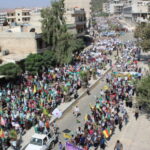 In a time of deep despair, human and ecological crisis, the example of Democratic Autonomy in Rojava has created hope, and given new inspiration to people in Syria and the Middle East. In fact, a lot of people in other parts of the world have become a part of this process and are connecting it to the struggles in their own regions. Despite all the shortcomings and numerous obstacles during the last decade, we have learned that the democratic confederal organization of society can fulfill many spiritual and material needs of society. We have learned that democratic transformation is a continuing process, which requires constant societal and self-reflection. Our achievements are not assured forever, if we do not protect and advance them.