Category:
Ecology
Ecology is one of the three main pillars of the Rojava Revolution and the stateless self-governance model of the Autonomous Administrations of North and East Syria (AANES), as well as the Kurdish freedom movement more broadly, which initiated the revolution.
Although ecology is one of the main pillars of the revolution in North and East Syria, it is also sadly one of the least developed. This is due to the challenges of being at the epicentre of a global conflict and under heavy economic embargo in a desertifying region suffering immense water scarcity that has been forced into a pesticide and chemical fertiliser heavy form of monocrop agriculture for forty years. To add to these troubles, the rivers which flow through the region are controlled by hostile state of Turkey, which frequently detains water flow.
In Bakur (north Kurdistan / southeastern Turkey), ecological destruction is also used as a weapon of war. Hydroelectric megaprojects have been used to control village populations, displacing hundreds of thousands of people and literally submerging entire towns.
Below you can find articles with more information about attempts to create ecological projects in both regions, the ecological pillar of the Rojava Revolution, and the struggle against ecocide in southeastern Turkey.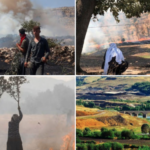 In the summer of 2023, Mount Cudi is once again the site of significant wildfires, marking a recurring environmental challenge that has profound implications for the region which is an important part of the Kurdish geography. This event brings to the forefront an interview with Zozan Pehlivan, an environmental historian of the modern Middle East, the Ottoman Empire, and Ottoman Kurdistan, conducted in 2020, now translated into English by MedyaNews, that explores the intricate connections between ecology, economy, and history in Turkey, Kurdistan and beyond.