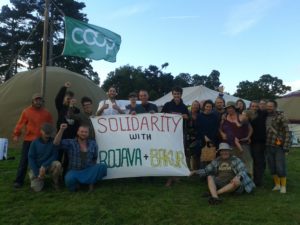 Co-operation in Mesopotamia will be present in the Co-operators' Camp at the Green Gathering for the third year running (now with our new name and brochures!)
In the Camp you'll also find approachable, inspiring people involved with housing, energy, land, media and workers' co-operatives… all happy to share their knowledge and experiences.
There's workshops in how to set up a successful co-op; discussions about how to organise for radical social change; examples from the international co-op movement; exhibition and chill-out space; and networking events for co-operators (with free food!).
Read more about the Co-operators' Camp and the Green Gathering festival