In the women's village of Jinwar, an ecological economy, women's solidarity and a common and free life are being built. The residents are now planning new projects in the fields of solar energy, medicine and offers for children.
The women's village of Jinwar is planning new projects in the fields of solar energy, medicine and offers for children. The residents of the village in northern Syria say in their last newsletter: "We have had many reasons to celebrate in Jinwar over the past three months. March 8th was International Women's Day. Due to the situation in the earthquake areas, no major celebrations took place that day. However, we took part in a demonstration and raised our voice for the freedom of women around the world.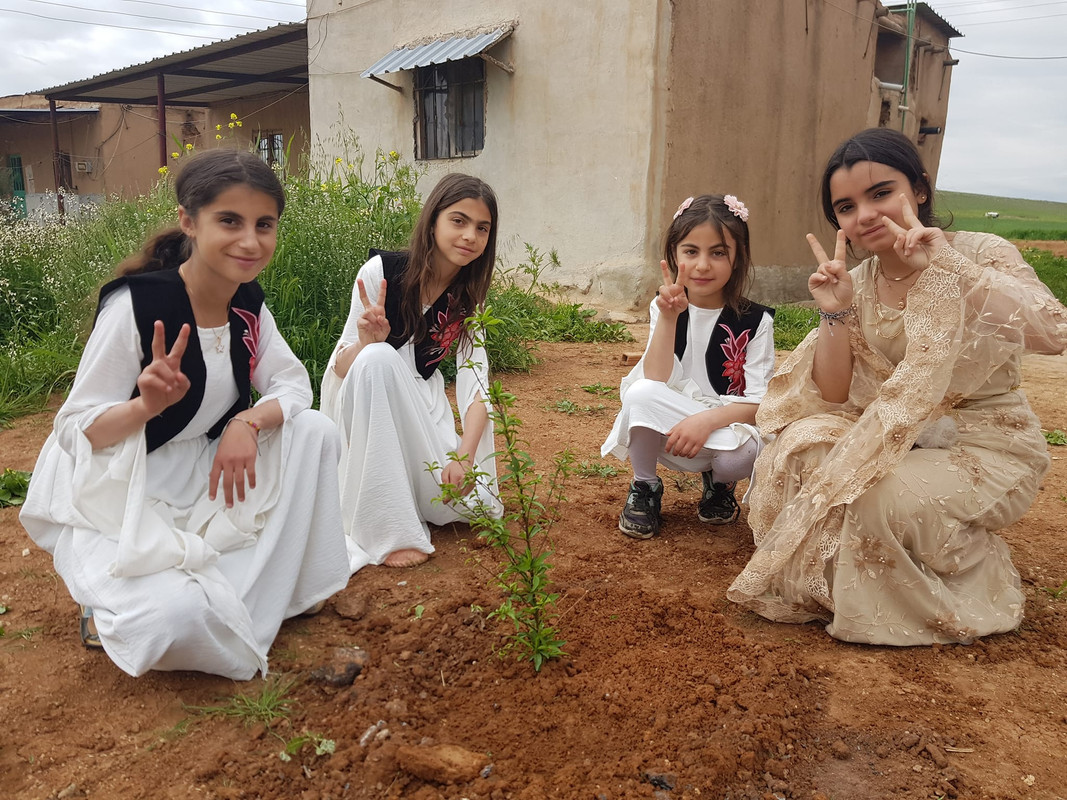 On 20 and 21 March we celebrated Newroz, the beginning of spring. The story of Newroz is a resistance story in which a tyrant is defeated by the blacksmith Kawa with the help of the rescued children from the mountains. Fires are lit everywhere as a sign of victory. This tradition of fire has been preserved throughout time and we, too, in Jinwar, have lit a fire and welcomed the spring with songs and a leap over the embers.
On 4 April we celebrated Abdullah Öcalan's birthday. Abdullah Öcalan has been kept in isolation for 24 years. The already little contact he had with his lawyers and his family has now been completely broken off. The Turkish state prevents any contact. Abdullah Öcalan's ideas on women's liberation are also relevant to Jinwar. It has been a tradition for many years to plant trees on his birthday and we did so in Jinwar. We also received many guests.
After Newroz, spring really arrived in Jinwar. We sheared the sheep and are now cleaning the wool and making pillows out of it.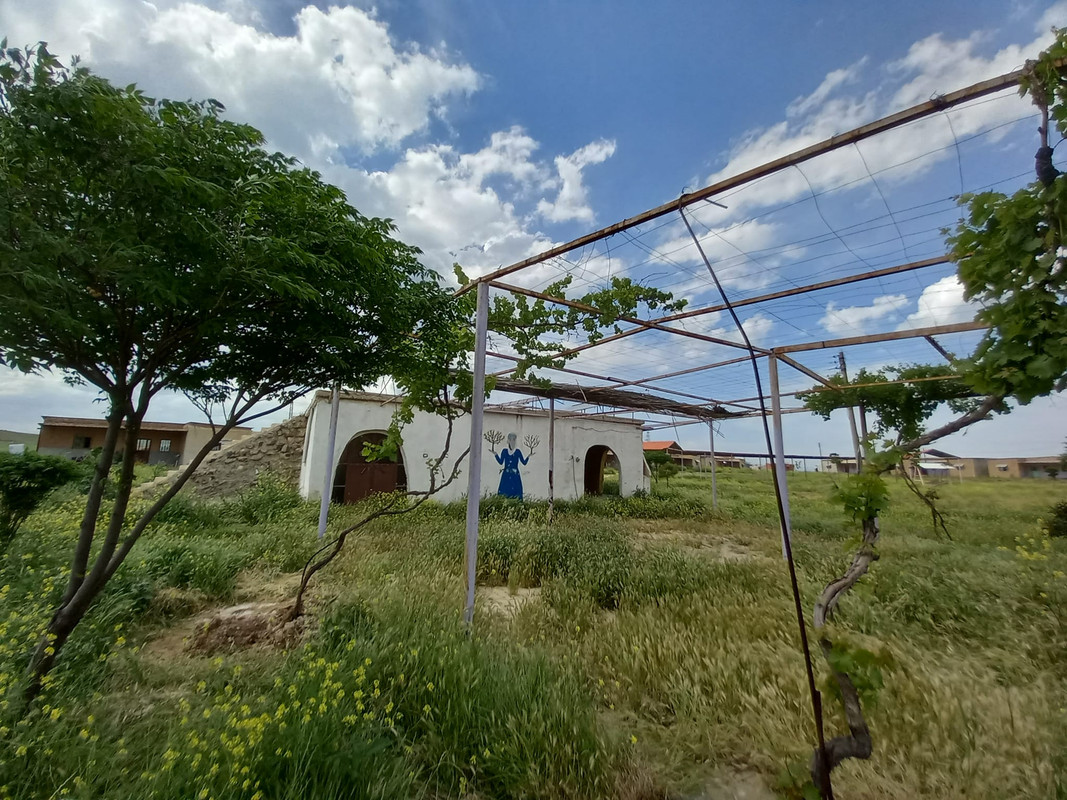 As every year, spring brings a lot of energy and life to the village, which is now mostly taking place outside again. We inaugurated the water reservoir that was also built as a swimming pool. The children learn to swim and, above all, have a lot of fun cooling off on hot days.
Sewing is in full swing and has become a bit more professional. After last year's sewing course, the women continue to teach each other how to sew. We sell the clothes we make, which contributes to the economic independence of the village and the women.
In spring we also had a lot of visits from journalists and researchers from all over the world who wanted to get to know Jinwar. The visit of two women from our sister garden "Hevrîn Khalef" in Berlin was special. In addition, students from the University of Qamishlo paid us a visit, which gave us a lot of energy.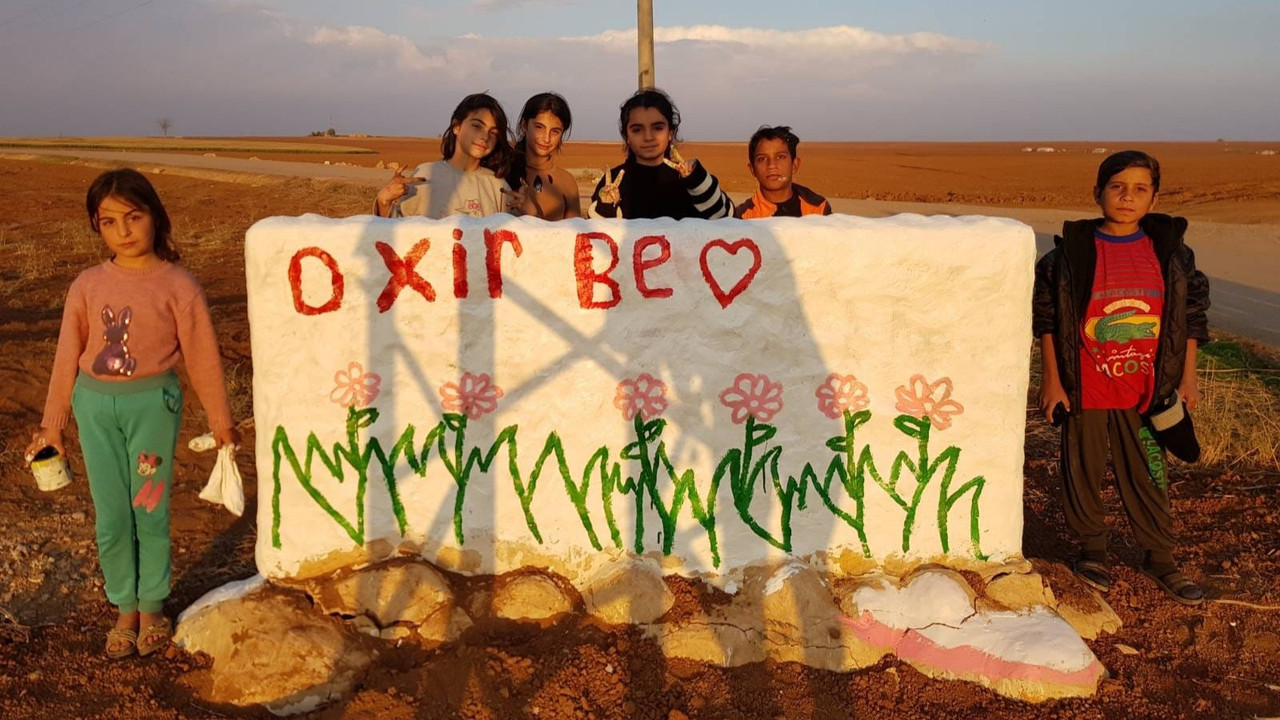 The work in the Şîfajin healing center is also in full swing: we have created a garden for natural medicinal herbs. We also went to the surrounding villages to collect plants that we dried here in Jinwar. We have already processed some of them into oil. We also plan to produce ointments and thus take further steps towards independent health care.
There is always something to do in Jinwar and we still have upcoming projects. We continue to strive for energy autonomy and want to further expand our solar system so that it can supply the entire village. We also want to create a place for children to learn crafts and play musical instruments in a more targeted way. And we are constantly expanding the infrastructure of Şîfajin."
JINWAR: Pilot project from a woman's perspective
The women's village of Jinwar is located in the west of Dirbêsiyê in the canton of Hesekê. The planning of the project started in 2016, the opening took place on 25 November 2018. Women of different origins live in Jinwar. In addition to Yazidis, Christians, Muslims, Kurds, Assirians and Arabs, women from all over the world also take part in village life. In the village built by women, an ecological economy, women's solidarity and a common and free life were developed.
Jinwar residents welcome feedback, ideas and suggestions and can be reached at womensvillage.jinwar@gmail.com.
Donations to the women's village can be transferred to the following bank account:
MIKA Association de sororidad internacionalista
JINWAR Bank:
Caixa d'engenyiers IBAN: ES4230250025201400027571 SWIFT: CDENESBBXXX