Part 11: Nature is protected by the spirit of goddesses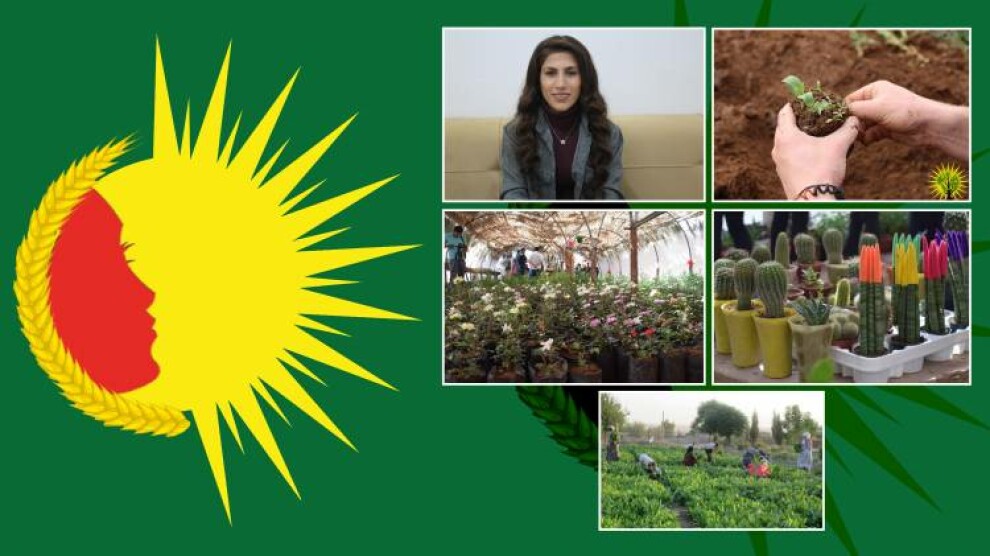 The ecological structure is also destroyed in the attacks on Northern and Eastern Syria. The Ecology Committee of Kongra Star has protected nature with the spirit of goddesses. Rihan Temo, spokesperson of the committee, called on women, people, organizations and institutes and said, "Protect your lands, nature because our lands are rich. We want to create the mentality protecting ecology culture in society. We should protect our environment and trees.
The establishment of the Ecology Committee of the Kongra Star was announced at the eighth congress of the Kongra Star held in 2020. Rihan Temo, spokesperson of the committee, spoke to NuJINHA about the importance of ecology for society and nature and the work of the committee. Noting that the region they live in is known for its beauty and has fertile lands, Rihan Temo underlined that there was a massacre of nature when the trees were cut down during the rule of the Baathist regime.
"Great prices were paid"
Stating that many natural places were destroyed in the Cizîre Region, Rihan Temo said, "Many chemical materials that polluted the air were used in the region. People were alienated from nature. Women corrected all wrong approaches to nature. We protect all living creatures with the spirit of goddesses, we protect nature. For this reason, the Ecology Committee was needed. Ecology doesn't mean only trees and green areas. What is important is to build an ecological culture. Great prices were paid in the lands of Northern and Eastern Syria and the children of these people sacrificed their lives to protect and defend the nature of this region."
"Ecology is a balance"
Emphasizing that ecology is a balance between society and nature, Rihan Temo continued to talk as follows: "We should eliminate alienation and see ourselves as a part of nature. We can define the occupation and plunder against people as the occupation and plunder aiming to change the demographic structure of the region. If we protect the environment, we can protect trees, soil, oxygen and all nature. If we build an ecological culture in society, we can protect the environment by eliminating environmental degradation."
Awareness-raising activities
Speaking about the responsibilities of the committee, Rihan Temo said, "We hold seminars, ecological training and meetings to raise awareness of the ecology in society. We should create an ecological mentality in society because people think they have the right to pollute and destroy nature. This mindset is the mindset of the sovereigns. We aim to change this mindset. We hold seminars and ecological training in villages because the villagers live with nature and they are connected to nature."
"Ecology is the most important pillar of the Democratic Nation"
Stating that one of the most important pillars of the Democratic Nation is ecology, Rihan Temo said, "Leader Apo thinks ecology is very important. Ecology is one of the important pillars of the democratic nation that includes everyone. After the Ecology Committee was formed, we have held many meetings to discuss ecological problems and the solutions against these problems. In our region, heavy weapons and prohibited weapons were/are used. We have waged a great struggle against the power mentality that makes society sick. Many attacks were carried out in our region, particularly in Afrin, Kobanî, Serêkaniyê and Girê Spî and their nature was destroyed. The people of the region are constantly threatened with water cuts. The use of vehicles and oil consumption also pollute nature. We need clean air for agriculture. We need an ecological revolution."
Projects to protect nature
Speaking about the projects of the committee, Rihan Temo said, "One of our most fundamental projects is to establish the Ecology Council. Our aim is to build an ecological society by establishing the Ecology Council. We also aim to protect soil, water, trees and streams. Our committee has developed many projects to protect nature. We will launch a tree planting campaign in the spring."
"There are volunteers advocating ecology"
Stating that there are volunteers and environmentalists who protect nature, Rihan Temo said, "There are volunteers struggling against ecological destruction. Many people, groups and organizations are trying to protect nature in villages. Keziyên Kesk (Green Organization) is one of them. It aims to plant five million trees in four years. Keziyên Kesk has joined our council and we are in touch with each other. A group called, "We Can Do It Together" has launched a campaign to protect creeks, trees and nature. This group has also launched a campaign to keep picnic areas, mosques, churches and living spaces clean in the cities. We call on all people to build an ecological culture in their society. Women protect society and nature the most. So we call on women to protect their lands, nature because our lands are rich. We want to create the mentality protecting ecology culture in society. We call on all organizations to protect nature. We have a rich and valuable society and lands. They deserve a healthy and ecological life."