Youth spirit is the fuel of the revolution
It's hard to describe the tour in words or moments, it wasn't an exact moment that brings back memories or feelings, but overall the tour of Rojava built many feelings, questions and contradictions for me. It is impossible to pass through places like Raqqa, Minbic or Kobane without confronting the reality of war, among the destroyed buildings but at the same time, the rebuilding of the cities that is still in progress. The destruction caused is still visible, but besides the fact of the destruction, what influenced me during the days of our tour to get to know Rojava, was how much the energy of this youth overflowed. This is what enchanted me the most.
In practically all the cities we passed through, we had contacts either with youth academies, or with their sports centers, meeting places, etc. It was very motivating to see that in cities like Minbic, a lot of work between the Arabic and the Kurdish youth has been developed in a fast and strong way. The youth has developed an ideological base and has a lot of energy to fight. This let us feel really connected and therefore let us feel to be part of that youth.
Talking to Arab youth about how they also feel represented by Serokati's thoughts, that his philosophy is not just for Kurdish people, but that his ideas of liberation, if they apply to everyone, are not something that should be limited to a single specific group. The youth also shared that Reber Apo's thoughts were not something widely shared within the society in which they lived. However, after the liberation, the ideas began to reach more people and they also wanted to organize themselves with the ideals of freedom.
This climate personally brought me a lot of power, listening to all the stories they witnessed during the liberation struggles, like a comrade who shared his story that he was seriously injured during combat, being carried by comrades with his body fully exposed and considered dead. Placed in a coffin and awaiting his transfer from the front line, but through all the strength that this youth possesses, he regained consciousness and rose from the coffin. Hearing this story and knowing that we are also part of this resistance, with this strength and with all this legacy, it was a unique feeling of being part of something that is a true reality. We stayed with them for approximately two days, but after that we didn't want to leave – to be honest, in every city I hoped the friends forget me there and I could stay there with the youth.
Every Family is Your Family
The energy and reception throughout the tour united us in all the places we went. It was no different within the families we were visiting throughout the tour. With families of Sehids [martyrs, people who dedicated their life to struggle], that we met, spent time with we were able to exchange experiences. What surprised me the most was to see the support that the families gave to the decision of their daughters and sons to join the fight, I didn't hear any doubt in any family, quite the contrary, I always heard a lot of support for that decision. This feeling within the families was very powerful, and because we were also involved in this same struggle, these families demonstrated at all times how welcome we were with them.
The families gave us a very clear picture of one of the main problems facing the Rojava Revolution, which is the difficulty in getting information about the Turkish State's attacks to other parts of the world, such as the large number of drone attacks, use of chemical weapons, but also information on how society faces these difficulties and at the same time continues to build a democratic life. One of the mothers gave us a very clear perspective, as internationalists our job must be to get this information out as far as possible. In this way, revolutionaries, other societies, can also become aware of what is really happening in Rojava, in order to create ties that can build a greater democratic force. But also that as internationalists we must also take responsibility for what happens here, not just us who went on the tour, but everyone who seeks a free and democratic life. It is also our duty to keep this revolution alive.
Culture – The First Target of Fascism & Colonization
Going through all these feelings and experiences and at the same time visiting places like Ja'bar Castle and having a panoramic view of the vast Euphrates was very important to create this feeling of the place, soil and history where the revolution is taking its place. As an internationalist coming from Brazil, a colonized country where all history that predates colonization has been destroyed or altered, by the years of Portuguese colonization, which imposed its culture and religion wherever it went, causing damage to thousands of years of culture of the indigenous people. Seeing that the Islamic State where it passed also tried to cause the destruction of the history and culture of the place, as well as the city of Palmyra, where Daesh [ISIS] destroyed practically all the cultural heritage of the city. Daesh was also present inside Ja'bar Castle in 2014, and it was possible to observe in the statues of women that all their heads were destroyed, while the body remained practically intact. It is impossible not to feel a lot of emotion seeing so much history in places that the Islamic State has also tried to destroy, but has not been able to bring about total destruction. Places such as the castle are still alive and being the basis for the Revolution.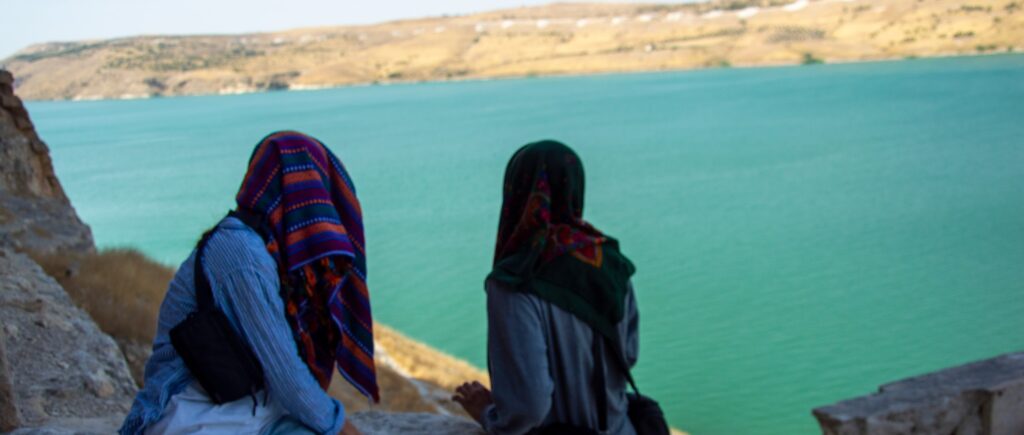 The True Revolutionary Spirit
To be honest, I didn't expect that this Rojava tour would have so many impacts on me, on my personality, but after visiting places like Kobane, it's impossible to say that the revolutionary spirit inside me hasn't grown even more. In each house, family or institution it was possible to feel a strong revolutionary spirit that I will carry within me for the rest of my life. After going back and putting my thoughts in place a little, I can only firmly think that Rojava is the place for all the revolutionaries in the world, all those who feel that the world needs to change but are without a clear perspective should come to Rojava. The hope and strength that each of these places gave me is something I want to make everyone feel.
Internationalist Commune of Rojava,
03.09.2023 Post navigation