Successive urban renewal projects in Diyarbakır's (Amed's) two strategic districts, Sur and Bağlar, might be designed to achieve hidden objectives of the Turkish state. These are the sentiments expressed by a number of urban specialists and residents, who suspect that under the discourse of 'modernization' and 'economic revival', there might be a secret agenda aimed at gentrification, assimilation and displacement of poor Kurdish citizens.
Poor neighbourhoods in Turkey have often been criminalized and ghettoized. When it comes to Kurdish cities, this marginalization becomes even more extreme, and 'urban renewal' can and often does have devastating consequences on the poorest residents.
It was only recently that the new urban renewal project in Diyarbakır's (Amed's) Bağlar district was approved by President Erdoğan himself. Today, huge billboards in the city centre of Diyarbakir can be seen, announcing the "gospel" of urban renewal in Bağlar, alongside images of a smiling Erdoğan. The previous example of urban renewal in the city is Sur and it is well-known that it displaced poor Kurdish people who had lived there for years. MedyaNews interviewed residents of the Bağlar district regarding the urban redesign of Sur and the proposed redesign project for Bağlar, the details of which remain unclarified by the state authorities.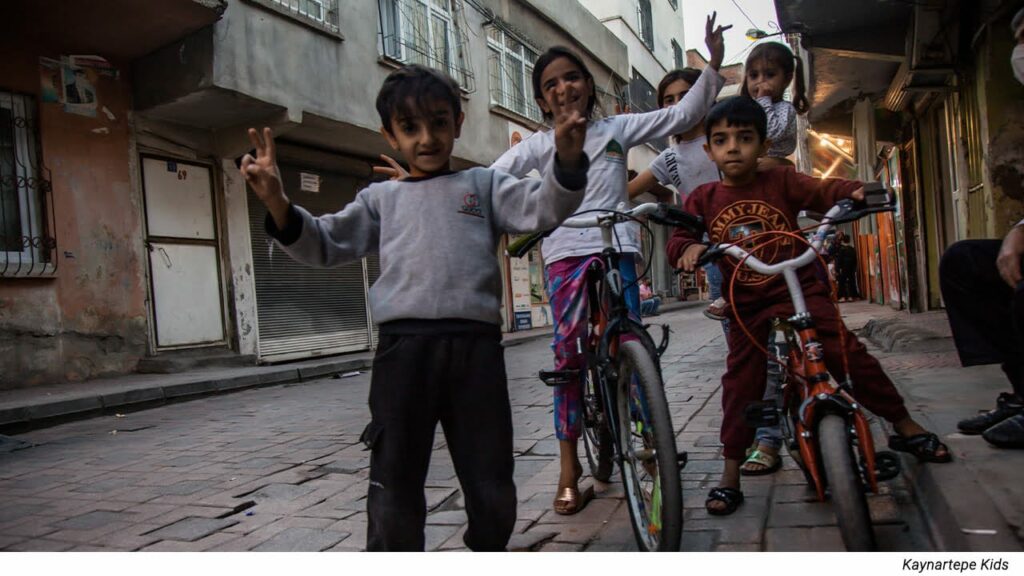 The urban renewal project in Bağlar district, whose population is 400,000, consists of an area in the Kaynartape neighbourhood which is home to 20,000 people. Eighty-percent of the district as well as the neighbourhood voted for the Peoples' Democratic Party (HDP). During the clashes that took place in 2015, there were militant clashes in Kaynartepe. The neighbourhood has a lively atmosphere with tens of children filling the streets, playing football and riding bicycles during the daytime. Women are seen sitting and chatting in front of the entrances to their apartments, most of which do not have three levels.
The young population of the neighbourhood is noticeable. Many teenage boys ride motorcycles. Finding our way to the Mukhtar's office, MedyaNews asked many boys for directions as well their opinions. All of them helped, all of them talked, but none of them wanted to be recorded on camera or have their names shared. Their main – understandable – concern was their security. They were worried that they might be subjected to police raids if they gave interviews.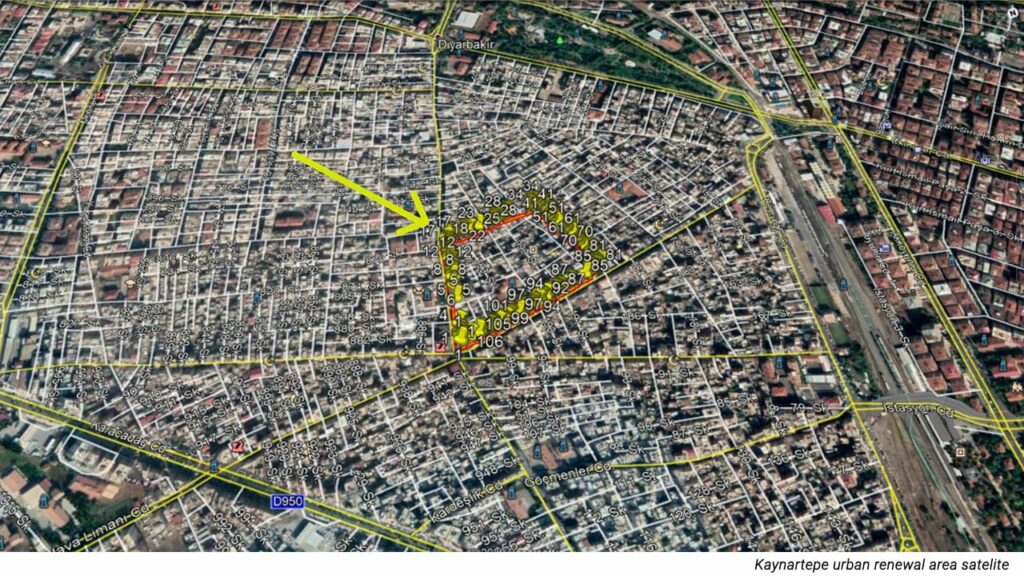 The data that Kaynartepe youngsters anonymously shared with us sheds light on the current social and economical violence that is prevalent in Kaynartepe: Poverty, unemployment, no chance to reach a proper education and the constant threat of drug addiction. Most of the youngsters have been taken into custody and beaten by the police at least once. And this is not only due to ordinary crimes, but also due to political reasons.
'Many people in harsh economic conditions live here'
"Our neighbourhood is the biggest and the poorest of Bağlar, but it's a very beautiful neighbourhood. Many unemployed people live here. Since the rents are affordable, many people in harsh economic conditions live here", said İlhami Altun, the elected Mukhtar of Kaynartepe. Altun has five children, one of whom is a political prisoner.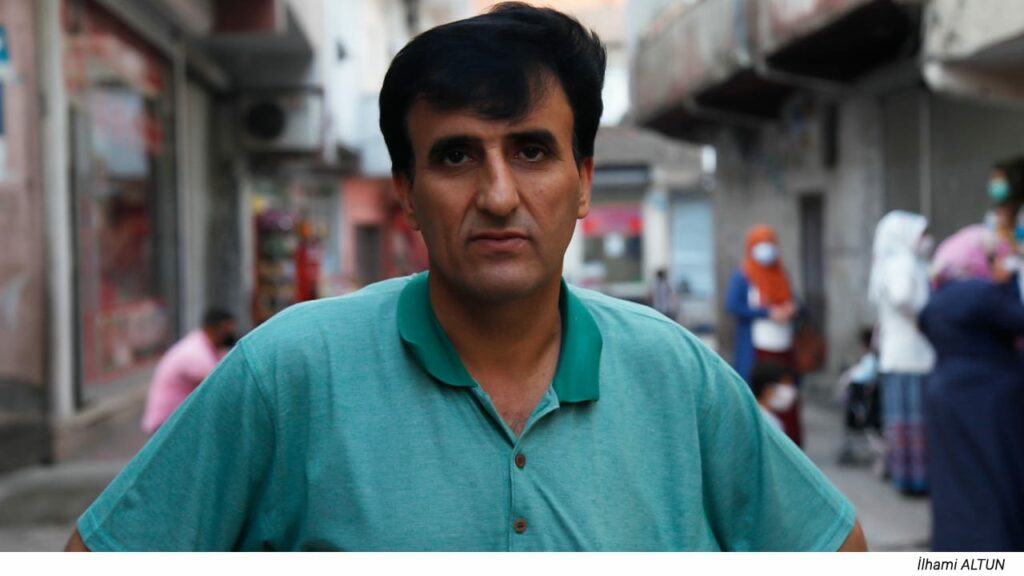 "Urban renewal has both positive and negative aspects", he noted. "We would not like to be detached from our traditions and from our neighbours. We fear that our people may be aggrieved. If they value the houses with lower prices, there might be problems and people may suffer more. We would not want that. If they pay low prices for the houses, then there could be many problems. On the other hand, our children deserve better living conditions. A cleaner, better organized neighbourhood would be appreciated by our people as well".
"On behalf of the community I represent, I would like to declare that we want this process to be applied with justice and the rights of our people should be preserved and respected", Altun added.
Many women in the neighbourhood, including Netice Arslan, spoke to us: "If they demolish our homes, they need to give us another house. Where would all these poor people go? We do not have a lot of money to pay as well. So they should re-build and give us back our homes. We will only give up our homes if the state gives us that promise".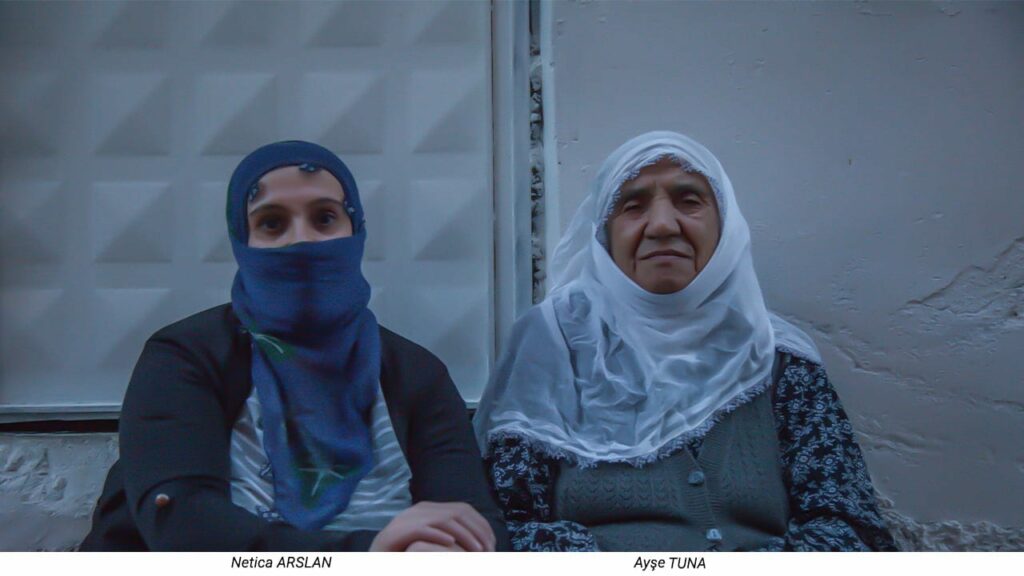 What if the state offers money as compensation for her demolished home, we asked?: "We won't accept that. Are we going to be able to buy a new home with the money they give? If they would not promise to give us a house back, then we do not want them to demolish our home. We have nowhere to go. We are happy now that at least we have our own place".
Yağmur Yenel (29) is worried about the future of her two boys, considering the increasing crime rates in the neighbourhood. She says: "If the state gives each of us a home and does not harass us, then urban renewal would be really good for us, because I would like to raise my kids in a clean environment. I cannot allow my children to play outside and feel comfortable right now. I don't want them to grow up under these circumstances". She is supportive of the renewal idea, but she also has questions she wants answered: "There are rumours that our homes will be demolished. What will happen, then, to the tenants and to the owners?"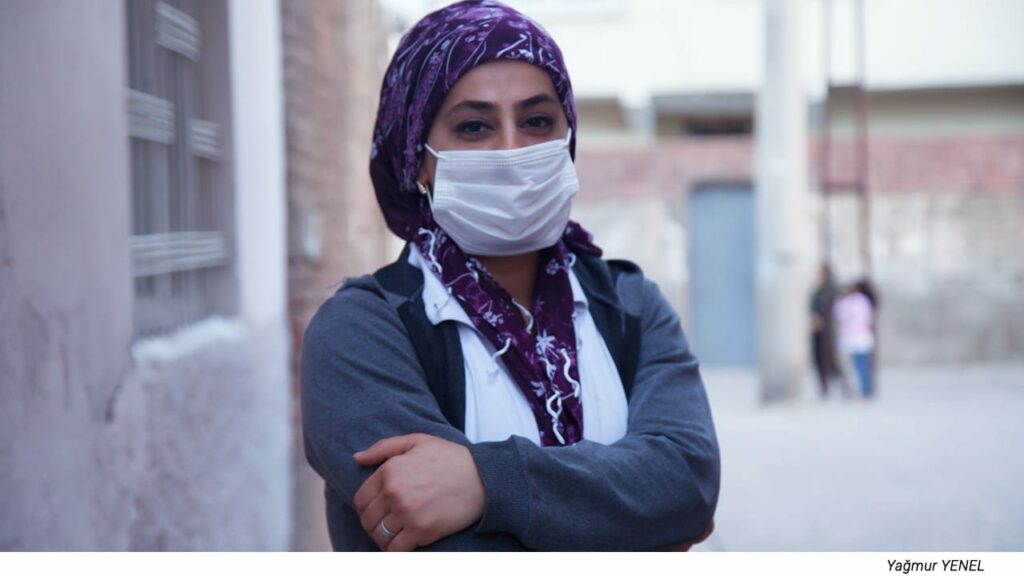 Ayşe Tuna, a 70 year-old Kurdish grandmother also voiced her opinions: "All I am worried about is my home. My home is my life. My home is beautiful and I love my sweet home. It is not that easy to throw me out. I trust the wall that I lean on and then I trust justice". We also spoke to Ayhan (49), who previously worked as a waiter and dishwasher in local cafeterias before becoming unemployed due to the pandemic and related impacts on trade. "Whatever this urban renewal is, if it comes to this neighborhood, all these people here will be devastated", Ayhan noted. "It is certain that everybody will suffer. The ones who suffered in Sur all came here. Look at the new homes in Sur, they sell some houses there for one trillion".
Ayhan highlights the concerns of many: "Let us assume that the value of this house is 30,000. They say they will offer us the new houses. But they sell the new houses for 500,000. How will I find the remaining 470,000?"
What about his fellow residents who support the urban renewal plans?: "Some people are eager to sell their homes, but they do not think about where to go tomorrow. Let us assume that I give up my house and I leave the neighbourhood. Where am I supposed to go and live? Living in Batikent or other parts of the city is so costly. We do not even have bread to fill our stomachs right now. How can we afford to live outside this neighbourhood?"
Yahya Akkuş is an artisan in Kaynartepe and he has been living here for 22 years. Sitting in front of his shop, Akkuş shares his complaints about the economic crisis. He is about to close his small business: "Once a week at least, the guns speak here. Inshallah, they will build a beautiful living space after they demolish everything here. We want to live in a comfortable place. At least we would get rid of these conditions. We are not living a good life here now. The state would never eat citizens' money", Akkuş hopes.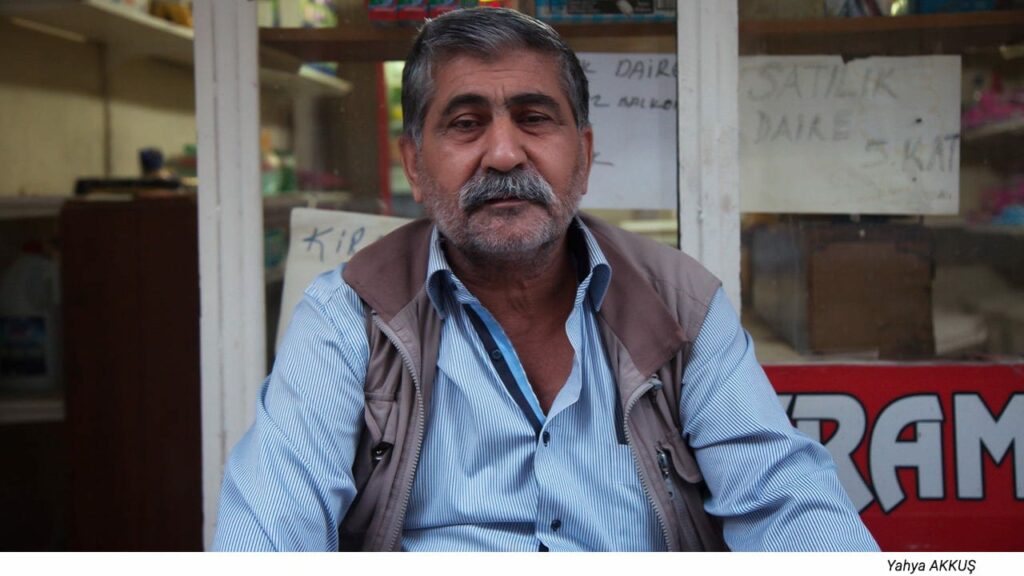 MedyaNews then spoke to Mahir Burmaz, a 36 year-old disabled man who has spent the past 20 years living in Kaynartepe. He explained his uncertainty and insecurity about his predicament: "I knocked on each authorities' door, the municipality, the governor's office … The state neither gives caretaker support nor pays the costs for the necessary operation". He has lost a leg, the sight of his right eye completely and is about to lose eyesight in the other eye due to his health problems. "It is for sure that they will demolish our homes. Of course, we would want a clean neighbourhood, but they should buy our homes and sell us the new ones at fair prices. Neither the municipality, nor the government has shared any information with us. We are afraid that we will be abused".