This is the 10 December 2022 phone bank and exchange between Americans and Rojava cooperator karker, endorsed by Cooperation Jackson, Cooperation Milwaukee, Coops Not Cages, and Flora Cooperative with accurate subtitles.
There was a similar cultural exchange in August 2022, which was not video recorded for posterity.
For cooperators in the USA to join relationship building with Rojava co-ops, email int-coop-solidarity[at]googlegroups.com
If you are UK based, contact Solidarity Economy Association.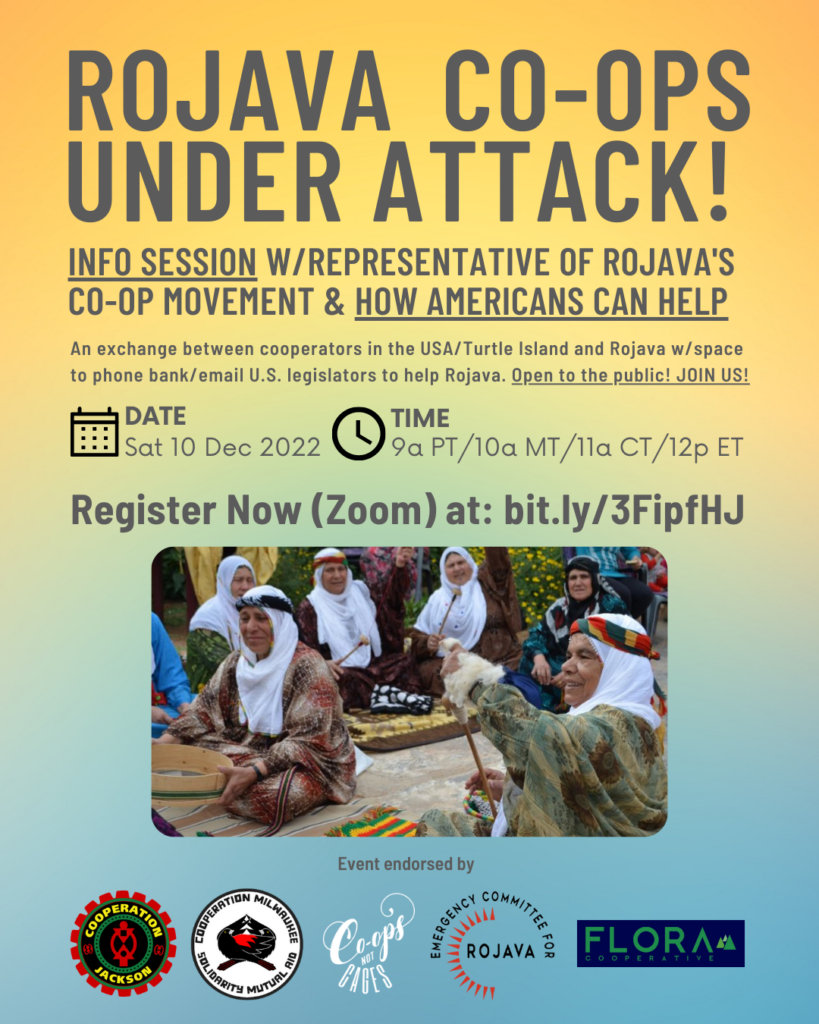 PHONE BANK TOOLKIT Link: https://bit.ly/3GAQXS6
Follow defendrojava.org's social media to ensure you have the latest toolkit.
TIME STAMPS 00:00 Welcome (Anya) 03:26 Get involved (I) (Chris) 06:20 Intro to Rojava Co-ops (Emre) 16:30 Phone bank [Edited Out] 16:35 Rojava Co-ops On-The-Ground Update (Karker) Q&A Begins 20:00 Relationship to USA presence 23:18 Roadblocks in developing the cooperative economy, local pushback and adaptation 27:57 Structural relationships 31:56 Startup aid 33:21 How to materially aid from the USA 34:40 Advice for the USA 37:38 Effect of women's cooperatives and challenges 40:18 LGBTQ Q&A Ends 42:01 Get involved (II) (Chris)
EVENT ENDORSERS Emergency Committee for Rojava (defendrojava.org) Cooperation Jackson (cooperationjackson.org) Cooperation Milwaukee (cooperationmke.coop) Flora Cooperative (floracooperative.com) Co-ops Not Cages (co-opsnotcages.coop)
More about Co-ops Not Cages.