The Autonomous Administration of North and East Syria (AANES) adopts an educational system that teaches mother tongue, as every community in northeast Syria, including Syriacs, Arabs and Kurds, learn their own languages along with other subjects in the schools run by the AANES.
Ismail said that that the curricula [of AANES] are being improved though they are a new experiment, "Year after another, new bases is laid down, and new methods are adopted and introduced."
There are 860,730 male and female students in 4,798 schools in the areas of the AANES, according to the Education Board of the AANES.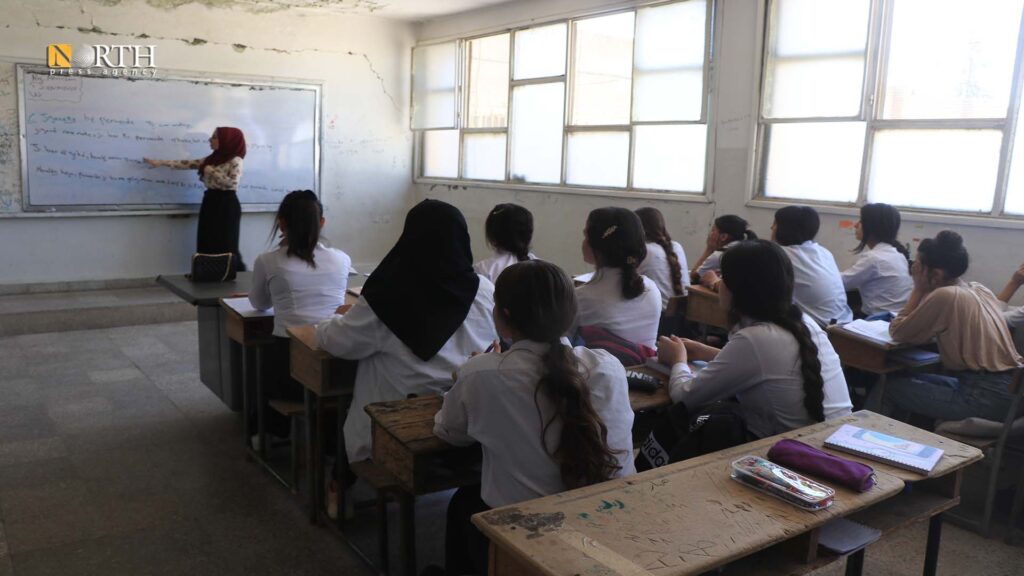 However, the education system in the AANES-held areas is debatable as it lacks formal recognition, and people are divided as opponents and supporters.
The ANNES employs special curricula, and prevents Syrian government curricula be taught in areas under its control. This does not apply, however, on security squares that are under the control of the Syrian government in the two cities of Hasakah and Qamishli.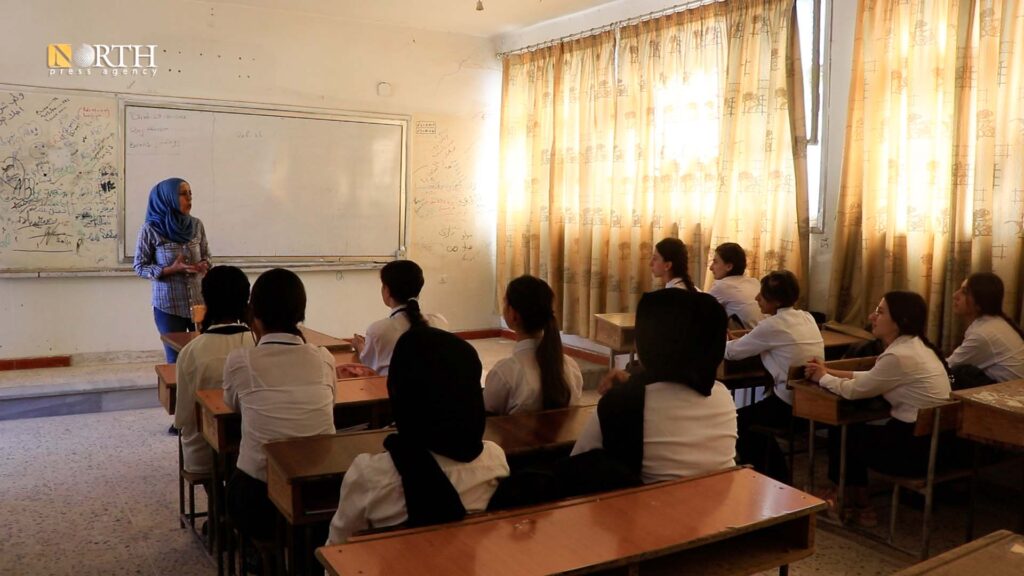 There is no recognition given to the AANES curricula except its affiliated three universities, Rojava in Qamishli, Kobani in the city of Kobani and al-Sharq in the city of Raqqa.
These universities have limited colleges that reduce options to students to study in colleges they aspire to, the matter consequently pushes a large number of students to study in Syrian government schools and join its universities in Damascus, Aleppo and Hasakah.
Differing opinions
On the pavement, just few meters away, Mizgin Hassan agreed with Ismail. Her three children go to AANES' schools.
"Methodologies are a success via the discussions taking place in unclear points. My children are satisfied with their education," Mizgin said.
"I follow up on my children, it is true there are issues, however, the experiment is a new one, we hope it would succeed," Mizgin added.
On the other side of the story, Muhammad Saleh, 40, does not send his children to AANES schools, they go to schools of the Syrian government in the security square.
Muhammad Saleh, 40, who wanted his footage be withheld citing personal reasons, said, "I am not opposed to the idea my children study mother tongue, but the AANES is not recognized to date."
Late in September, people in the city of Qamishli protested the decision passed by the AANES to close down private schools and institutes that embrace Syrian government curricula.
Evaluation system
As a new education system, the AANES depends on evaluating students instead of undergoing examinations that allow the students to enter universities based on their evaluations in the secondary stage.
In the all-girls al-Karama school in Qamishli, teacher Roshin Suleiman had a lesson on Jineologjî a new subject introduced by the AANES, in a crowded classroom of eleventh grade students.
Roshin, who underwent special training by "specialists" said that evaluation is a "positive" step.
Since the start of the academic year, the students are being evaluated according to their oral and written evaluations and the projects they introduce.
All in all, the students are being evaluated from the tenth grade up to the twelfth one, upon which they are allowed into an institute or a university of the AANES.
Though this experiment is a new one, co-chair of the Education Board in northeast Syria Samira Haj Ali indicated that the aim was to build humans on the basis of comprehension, not memorization.
"Students must have their own analyses, discussions and participation. They must do research and present projects each term. In this way, they can be guided to build their community."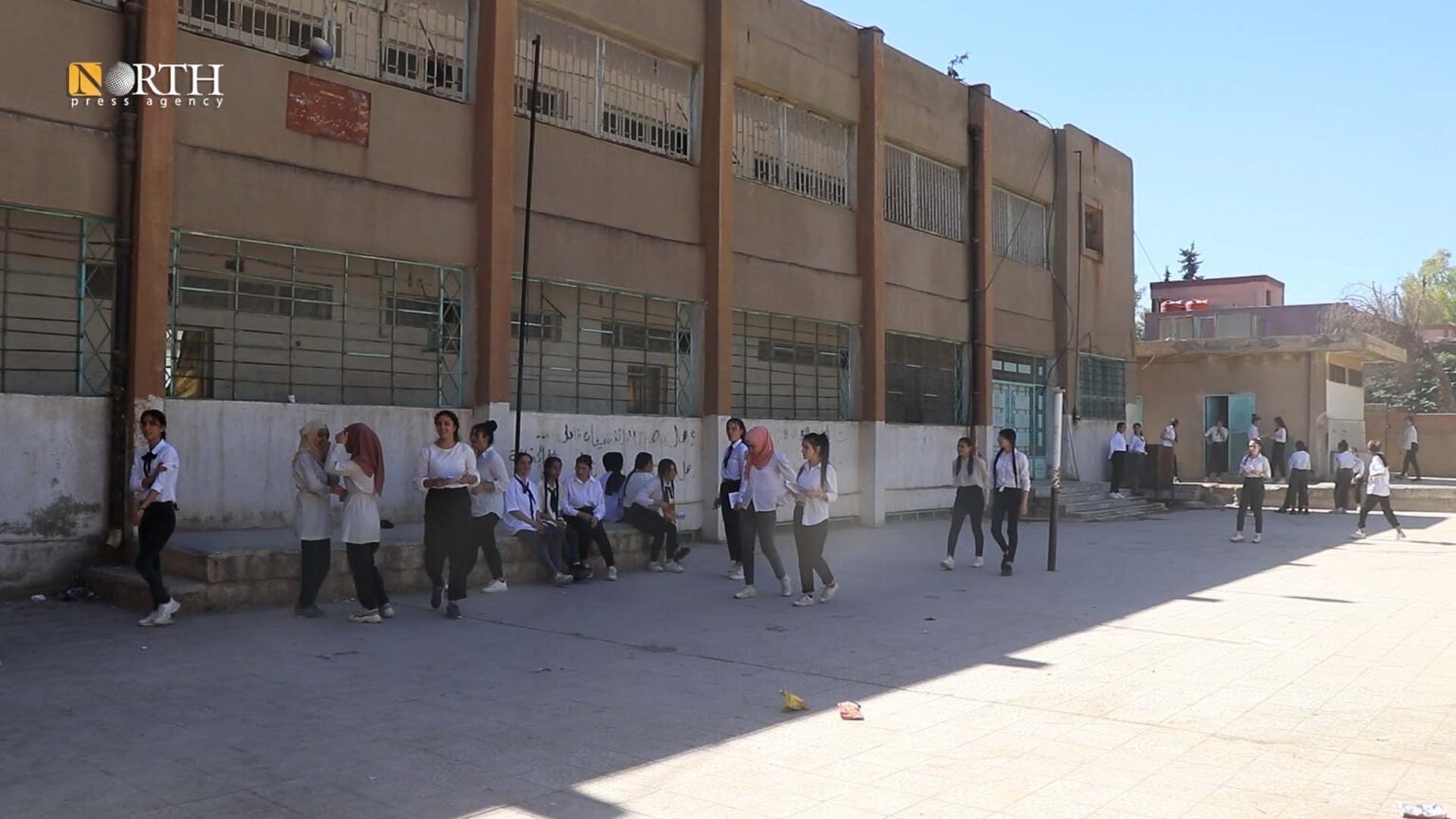 Locals criticize educational staff of the AANES saying they are "inexperienced" based on the vision that a large number of teachers did not graduate from universities and have no qualifications.
To avoid such accusations, the Education Board trained nearly 42,178 teachers in summer in different areas to develop their teaching skills based on the employed curricula, according to Haj Ali.
"Training helps teachers to evaluate students and verify the way to give them marks. This evaluation is based on oral [tests] and written examinations as two fields could differ. Some students are orally weak while good at writing."
UNICEF curricula
Deir ez-Zor, Tabqa and Raqqa areas are exempted from AANES' curricula except for scientific subjects. Due to the conservative communities in those areas, the AANES introduced Religion to the curricula taught in those areas that go in line with the area.
However, in the academic year 2022-23, the AANES re-introduced Religion for Muslim, Christian and Yezidi students separately.
With the advent of the academic year, 2,400,000 books have be distributed to schools, according to the Education Board.
The AANES confirmed that in the last six years it worked to develop a lot of its subjects to follow up on scientific developments around the world, in spite of attacks and obstructions that faced the educational process.
The AANES has also signed a number of memorandum of understandings with a lot of European and American universities to exchange expertise.
In this regard, Haj Ali said, "We continue to cooperate with international organizations to exchange curricula and send and receive delegates to our areas to develop our practical and educational curricula."
Although there are efforts by the Education Board to make learning a success, it is challenged by popular rejection where locals, employees and even officials of the AANES' institutions do not send their children to AANES' schools.