The Solidarity Economy Association wish to send our heartfelt solidarity and congratulations to the over 7,000 Kurdish people around the world who have just ended their hunger strikes in victory. The hunger strikers had been demanding the end of the aggravated isolation which has been imposed on Kurdish leader and political prisoner Abdullah Ocalan, who has been held in largely solitary confinement for over 20 years by the Turkish state, in contravention of international law. An announcement on Sunday 26 May confirmed the strikes to have been successful and the isolation to have ended after Ocalan was able to meet with his lawyers for the second time that month – the only two times in 8 years.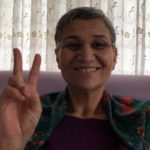 Our hearts go out in particular to Leyla Güven, whose incredible courage and stamina to go without food for 200 days have inspired so many others to join her in the strike, including Imam Şiş in Wales, who has just ended the longest hunger strike in British history, and our friends Nahide, Mehmet and Ali in London. We wish you all a full and speedy recovery.
Whilst the hunger strikes are over, work must still continue to ensure that the contact with Ocalan and the gains that have been struggled for with so much will and determination are not lost.
For more information about the hunger strikes, see this post: https://kurdishsolidaritynetwork.wordpress.com/2019/05/26/hunger-strikes-end-victorious/