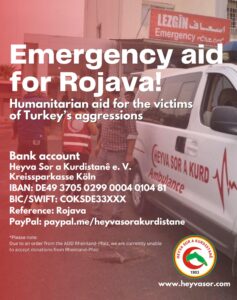 A series of relentless huge-scale bombardments by Turkey over the course of several days have devastated civilian infrastructure – the basis for life in the region – across North and East Syria.
From the early hours of 5 October until the following Monday 9 October, a huge escalation in attacks by Turkey targeted Rojava in what has been called the worst and most widespread destruction of infrastructure since the beginning of the war in Syria. The main target was key infrastructure – electricity, water, oil, gas, fuel, food, hospitals and factories, as well as residential areas and military posts. North Press Agency, a news source in Syria, counts 172 sites which were targeted with 237 strikes.
The escalation followed a statement by Turkey's Minister of Foreign Affairs, Hakan Fidan, threatening to strike a broader range of targets in Syria and Iraq in retaliation for a bomb attack at the Ministry of Interior in Ankara on 1 October, which injured two police officers and was claimed by the PKK. Fidan claims the two attackers were trained in Syria, saying: "From now on, all infrastructure, large facilities and energy facilities belonging to (armed Kurdish groups) in Iraq and Syria are legitimate targets for our security forces". This is being interpreted by many as an open declaration of a war crime, yet Western media is silent and the attacks are mostly unreported.
Turkey's attacks have so far caused dozens of civilian deaths and injuries and devastated an estimated 80% of civilian infrastructure. There is now no power or water across Kurdish regions of North and East Syria, including in hospitals. A region home to millions of people already suffering from water shortages and power-blackouts is now at risk of total humanitarian collapse.
The situation now
Turkey's President Erdoğan has declared the end of the "first phase" of the operation against North and East Syria, and attacks appear to have scaled back to the pre-escalation 'norm', but are continuing as can be seen on the newsticker run by Women Defend Rojava.
Infrastructure for electricity, water, cooking gas and oil is completely destroyed across the region, with repairs estimated at hundreds of millions of dollars. 2 million people in Cizire Region are without electricity and water.
Numerous electrical facilities, oil fields and fuel depots have been destroyed, as well as water stations, dams, wells and pumping facilities, such as the Hime water pumping station in Hasakah. The water supply from Alouk water pumping station to the city of Hasakah, has again been disrupted.
Most domestic cooking in NES is done with bottled gas, but Turkey bombed the Suwaydiyah gas bottling and power station, the region's only gas bottling plant which also supplies the vast Jazira region with 50% of its regular electricity, and as well as being vital for pumping and supplying water. The total cost of repairing the Suwaydiyah gas plant alone is estimated at over $50 million, and many of the parts needed are not easily replaceable. Existing stocks of gas are estimated to last less than a month.
Oil infrastructure targeted with direct strikes on more than a dozen oil facilities, such as Odeh and Gerdahol oil fields in Tirbespî.
Food and broader economy targets included farms, grain silos, a vineyard in Sherawa, a paint factory in Kobane, and a nylon factory near Derik. Airstrikes in Derbesiyê seriously injured 5 women working in a cotton field.
The Covid hospital in Dêrik, one of the most important hospitals of its kind in the region, was completely destroyed, and numerous other health facilities have been destroyed. At least 46 hospitals and health facilities face electricity cutoffs, cold chains needed for supplying medicines are broken – there are calls for blood donations in many hospitals.
48 schools are damaged from shelling, thousands of children can't study.
ISIS is at risk of regrouping in the region and using this situation to its advantage. The Administration of Hawl Camp in the countryside of Hasakah, northeastern Syria, said Turkish attacks against the region will create a suitable environment for the revival of the Islamic State (ISIS) hence causing instability in the region.
What to do?
DONATE to support Kurdish Red Crescent (Heyva Sor a Kurd) provide vital humanitarian assistance on the ground
SPEAK OUT about these attacks. While much media coverage is focused on the war in Palestine, attacks in Rojava go unnoticed
WRITE letters MPs and articles for magazines and newspapers
ORGANISE meetings and actions
SHARE resources like this on social media and with everyone you know
Attacks on infrastructure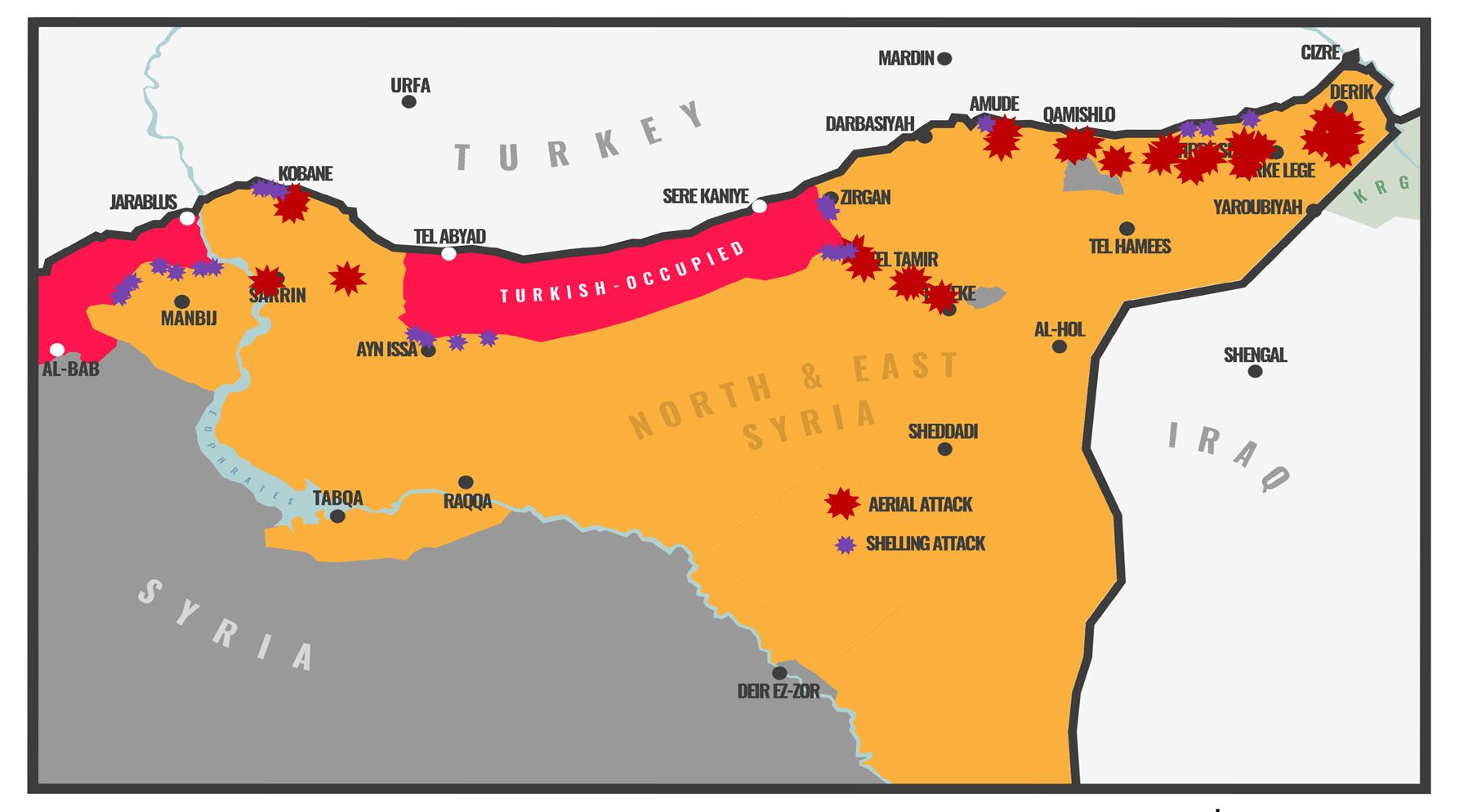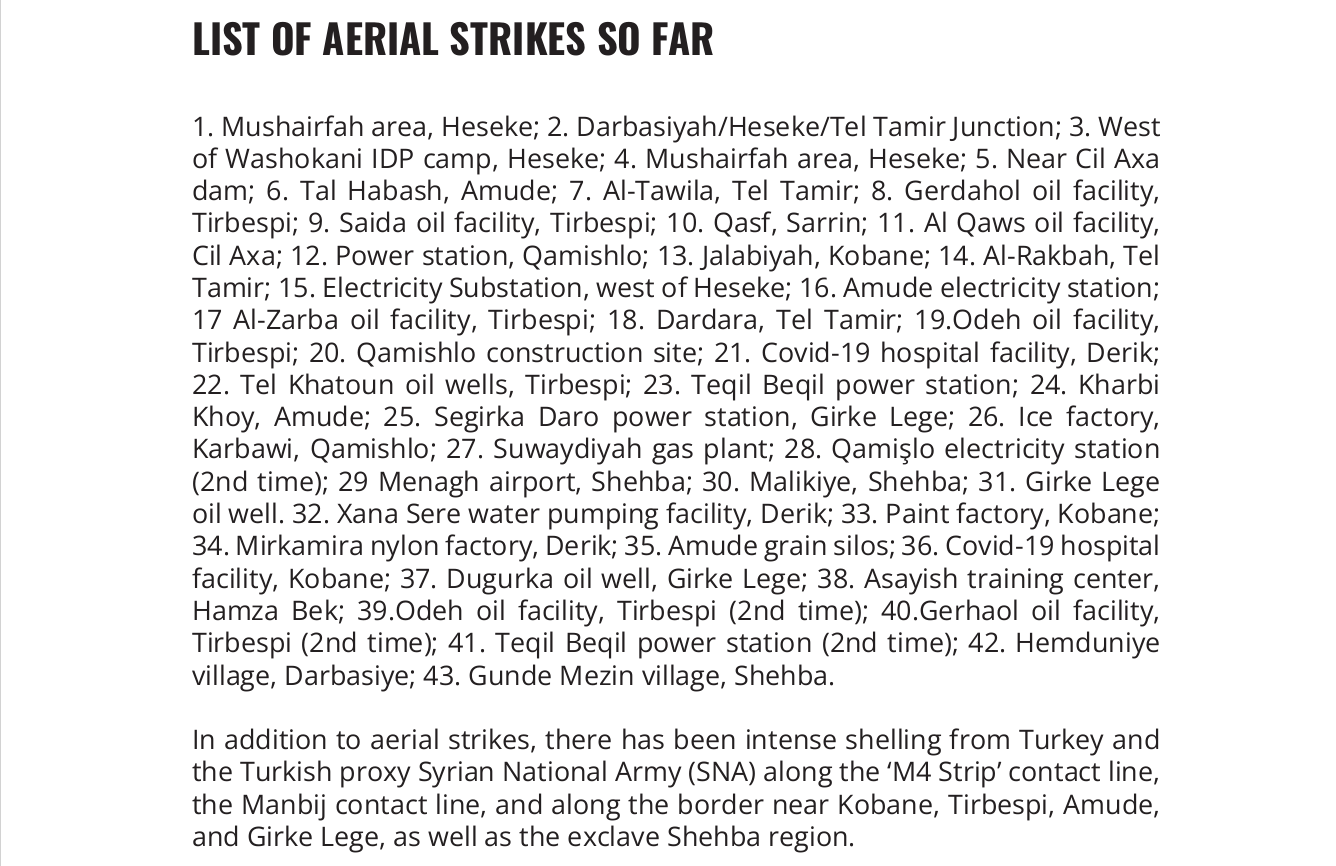 Resources
The following sites are covering events on the ground: