Members of the Co-operative College have voted unanimously in favour of a resolution, put forward by the Solidarity Economy Association at the College's AGM, to support the growth of the co-operative economy in Rojava, Northern Syria.
Over the past five years, the co-operative movement in Northern Syria has seen unprecedented growth, from nothing to 3% of the economy, despite a full embargo, blocked borders and ongoing war situation. Through our Co-operative Economy in Rojava and Bakur project, we've been working closely with friends in and of Rojava, and have been raising awareness in the UK and Europe about their efforts to further develop the co-operative economy there in the next three years.
SEA worker member and co-director Colm Massey (pictured right), who put forward the proposal at the College's AGM, said: "This women-led movement is showing the world a new way of organising society democratically, from the bottom up. The women's movement and other organising bodies of the democratic self-administration, co-operative and commune structures in Northern Syria are calling for the support of the international co-operative movement to do whatever we can to support them. We're thrilled that members of the Co-operative College have chosen unanimously to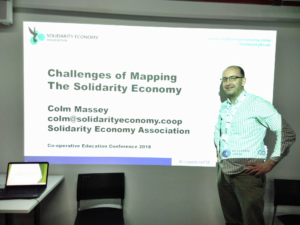 do this, and we look forward to working more closely with the College on this in the future."
The AGM took place during the College's annual Co-operative Education and Research Conference, which saw the International Co-operative Alliance's new director general, Bruno Roelants, and president Ariel Guarco, deliver keynote talks. The conference featured workshops and presentations, and SEA also delivered a workshop on the challenges of mapping the solidarity economy, as part of our Open Data and Mapping the Solidarity Economy work.
For more information about what's happening in Rojava, Northern Syria, visit our Co-operative Economy in Rojava and Bakur project website. We're looking forward to making an exciting announcement about this work soon!