Deposed co-mayor Songül Doğan of the municipality of Akpazar in the province of Dersim continues her works in an agricultural co-operative.
The inhabitants of the village of Elmalı founded the "Agricultural Development Co-operative" seven months ago. The co-operative is currently cultivating 22 hectares and is planting and harvesting tomatoes, beans, peppers, aubergines, cucumbers, sesame and wheat. In this way the people ensure their survival. Many of them are women who have been dismissed from public service following the appointment of trustees. The former co-mayor of the town of Akpazar, Songül Doğan, in whose district Elmalı is located, is also involved in the co-operatives. In particular, she is working on resuming projects that were interrupted due to the dismissal of the HDP city administration, thus preparing the establishment of a soap factory and a women's co-operative.
"What matters is the faith in us"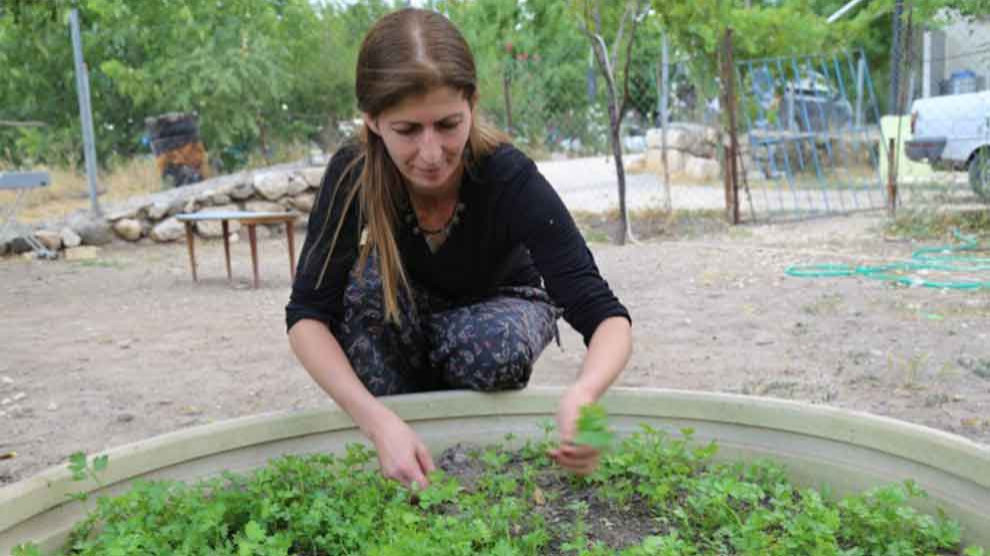 The work as mayor has not stopped for Doğan. She tells the Mezopotamya news agency: "When the women need help or advice, they call me. We visit the women and try to find solutions when they ask for help. We act according to their wishes. We help them as best we can. The walls of a town hall are not important for us. What is important for us is the belief of the people in us. We try to live up to their trust in us".
"We do not part with the production"
Doğan said they will be holding popular assemblies to plan and increase production next year and says that agriculture is widespread in the town. She says they will now start producing butter, cheese, yoghurt and other natural products as co-operatives. People also make jam from wild fruit and try to earn an income. It is also important not to separate the women from the production, says Doğan and adds: "Within the framework of the current co-operative, we also want to open a soap workshop. There are all kinds of herbs here, so we can also produce wonderful soap."